This is a sponsored post on behalf of Savings.com. All thoughts and opinions are strictly my own.
Cajun shrimp? Buffalo chicken? Hot peppers? All of these things are delicious, but honestly, they can wreak havoc on my digestive system.
In fact, there are times were I worry about eating out at ethnic restaurants or ordering the hot wings at our local wing place for fear that I will be suffering from indigestion and bloating later. Its frustrating because I love these foods but not how they make me feel.
It doesn't have to be that way though.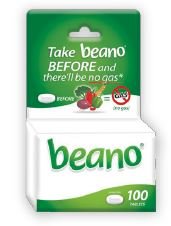 I'm sure you've heard of Beano before, but do you know what it really does? No, it's not just about beans, in fact it helps prevent gas and discomfort from many healthy foods, especially vegetables and whole grains.
This medication is important because it also helps you to eat smart. Some of the most nutritious foods are also "problem foods." In fact, you should be eating vegetables, grains, and beans as part of your regular diet.
This has been a life-saver for me, especially since I have a sensitive stomach. Since I never know what foods will cause my stomach to act up, I always keep a box on hand.
Of course, I love saving money almost as much as I love eating a diverse array of foods. That makes this deal even sweeter!
Right now, I've made it even easier to save when purchasing Beans. This printable coupon will save you $3.00 on a 100 count package of Beano. Plus, if you live in NYC, LA, Chicago, or Dallas you might be able to save with an additional Beano coupon.
Don't be afraid of eating the foods that you love. Instead grab a box of Beano, just in case.
Comment: Are you ever afraid of eating the foods you love just because of how your stomach may react?