This shop has been compensated by Collective Bias, Inc. and its advertiser. All opinions are mine alone. #CurbsideConvenience #CollectiveBias
As most of you know, I have two young children. This can often make trips to the grocery store challenging. Most often I try to go to the store by myself but that's not always possible.
Yesterday, I wanted to make a back to school celebration for my family since my older son just started kindergarten. I was planning on doing steak, potatoes, and asparagus.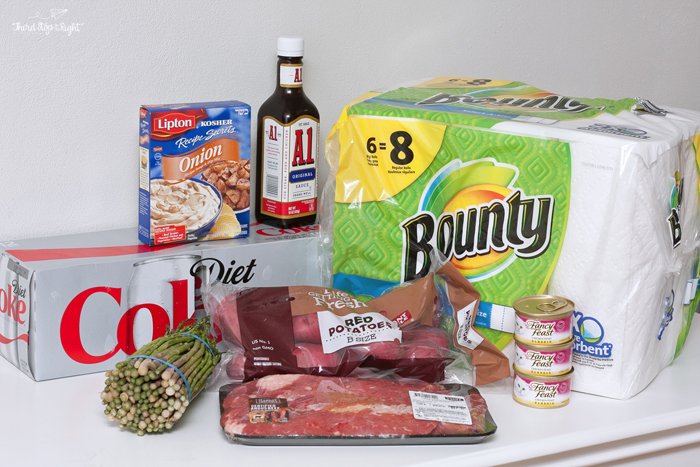 I also needed to pick up some other groceries as well including drinks, steak sauce, paper towels, and cat food.
Normally, this would be a grocery store trip I would dread, however, this time it was easy.
So what was the difference? This time I decided to try using Giant Eagle's Curbside Express which made the trip a breeze — and my dinner a success!
Making Grilled Flank Steak
My family loves flank steak and it has become something of a special occasion meal so it was logical that for the first day of school we have some. The fact that I was able to get all the ingredients so easily was also a huge bonus.
First, you will want to prepare the marinade. You will need to combine:
1/2 cup red wine or sherry wine
1/4 cup soy sauce
1 tsp ginger
1/4 tsp garlic salt
Put all of this in a large plastic bag along with the steak. (As a side note, you should ask to have the flank steak tenderized in the meat department while you are at the store.) Allow the steak to marinade for four to five hours.
Once you are ready to cook the steak, all you have to do is put it on the grill and cook for approximately 5 minutes per side. Just make sure that the meat is cooked through before eating.
To round out the meal, I paired the steak with some steamed asparagus as well as some roasted potatoes. Be sure not to forget the steak sauce or drinks either. Delicious!
Love It? Pin It!
Using Giant Eagle Curbside Express
As I said before, using the Giant Eagle Curbside Express was so easy. This was the first time I used it, but I will definitely be using it again in the future. It saved me from the stress of having to shop with children as well as saved me time and money. Plus the whole process is simple.
All you have to do is go to the Giant Eagle Curbside Express website, and create a user name (if it is your first time). From there you can start searching for groceries and adding them to your cart, just as you would with any other online shopping platform. You can even add fresh produce and meats through the platform. Another thing that is great is that you can put notes for your Curbside picker, such as I asked to have the flank steak tenderized. I also love that a real human picks the product so you know that you are getting the best when it comes to meat and produce.
Once you have everything in the car that you want to purchase, you will choose a pickup time from a list of available times. You will also choose if you want to pay online or if you want to pay when you pick up. I chose paying at pickup.
After you get to the store, all you have to do is pull up to the designated Curbside Express parking space, call the number on the sign, and they Curbside picker will bring your product out to your car. Even purchasing bulky or heavy items is easy as the Curbside picker will load it directly into your car.
What is particularly nice is that for the first three times you you use Curbside Express the fee is waived so there is nothing to lose and everything to gain!
For more inspiration on what you can do with groceries from Giant Eagle Curbside Express, visit the Giant Eagle Curbside Express Social Hub!
Comment: How would you use the time and money you save from using Giant Eagle Curbside Express?