This shop has been compensated by Collective Bias, Inc. and its advertiser. All opinions are mine alone. #PurinaMysteries #Collective Bias
Growing up, I never thought that I'd be a cat person. My family only had a dog and some small pets, but never a cat. Who knew that I would eventually adopt three cats. All of my cats came to me in rather rough shape. Tango had been at the shelter for quite a while, Tiger was a stray, and Chicken Fingers was feral. It was up to me to nurse them back to health.
Its no secret that I love these cats and want the best for them, which is why I feel them all Purina ONE® cat food from PetSmart as I know it is not only healthy for them but they also love it.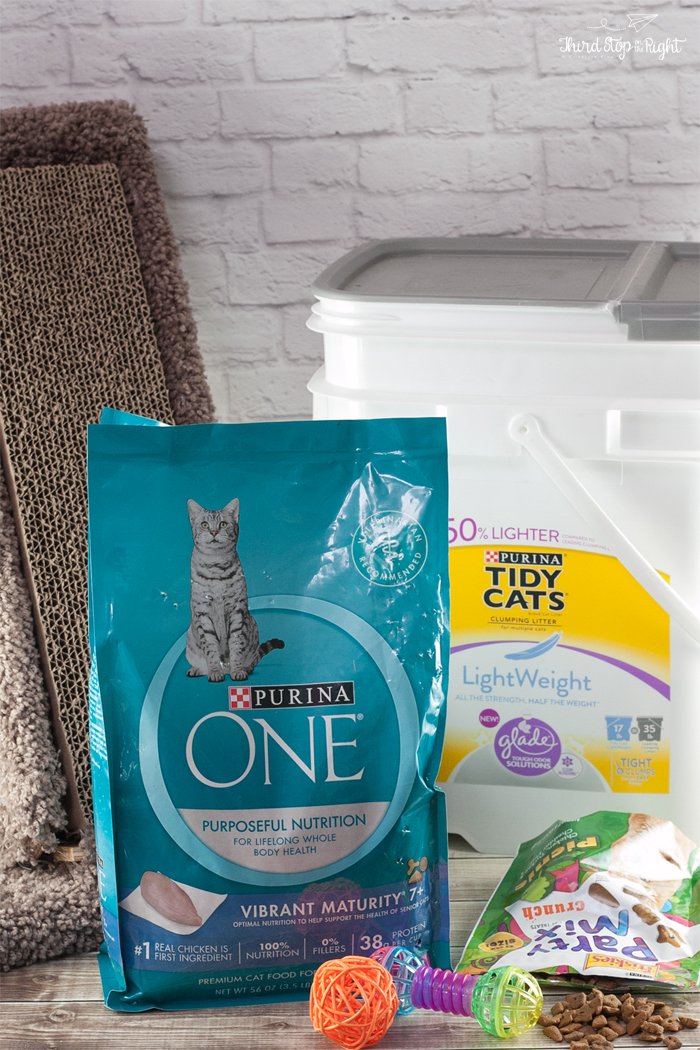 I have had my cats for quite a few years now and each of them are now considered senior cats. Caring for senior cats presents its own set of unique challenges. Since I have three of these senior cats, I've discovered some tips to help make their lives (and your life) easier.
Tips for Caring for Senior Cats
Keep them active. Even though your cat is no longer a kitten it doesn't mean that they don't need to stay active. Keeping active will help your cat to maintain a healthy weight as well as help to keep their minds sharp. To keep them active it might mean playing with a stringed toy or my favorite is using treats as a motivator. I purchase Purina® Friskies® Party Mix treats and will toss them for the cats to chase. This gets the cats moving and also give them a delicious treat!
Choose a high quality litter. Cats, especially older cats, like consistency when it comes to their litter. I take care to choose a high quality litter such as Tidy Cats Lightweight. Not only is this litter a fraction of the weight of traditional litters, but it also clumps well and is easy to scoop. This is important because if your cat doesn't like their litter then accidents are more likely to happen.
Allow them to scratch. Scratching for cats is healthy. It not only gives them exercise, but also helps to keep their nails healthy. Plus, it feels good! Of course, you don't want your cat scratching up your furniture, so give them an appropriate place to relieve their urge to scratch. This could be a scratching mat or even a scratching post. Whatever you do, be sure not to punish your cat for doing what is natural.
Stimulate their minds. Senior cats can sometimes get lazy and sleep for large chunks of the day. This is why, in addition to keeping them active, it is also important to stimulate their minds. This may mean doing sensory activities such as blowing bubbles to the cat, giving them toys or puzzles, or even using products such as cat grass to pique their curiosity.
Feed them well. Choosing the right food for a senior cat is very important. This is why I choose Purina® ONE® Vibrant Maturity 7+ for my cats. This food features optimal nutrition to help support the health of senior cats and real chicken is the first ingredient. Plus, it contains no fillers. By feeding them Purina ONE I know that they are getting the nutrition that they need to live long, healthy lives.
I would do anything for these cats which is why it is so important for me to make their golden years as good as possible. They have been with me through so much (marriage, the birth of my children, the death of a spouse) that they deserve for the favor to be returned.
One of the ways I do this is by feeding them Purina products. Whether it is wet or dry food, treats, or litter, PetSmart has you covered. In fact, right now (through 6/30/17) when you spend $40 on ANY Purina products you can get a $10 PetSmart gift card. It is really easy to do. All you have to do is purchase the $40 worth of items, upload your recipe to the redemption site, and your gift card will be mailed to you. What is even better is that you can redeem for multiple gift cards for every $40 purchase so be sure to stock up! For more inspiration on how to care for your furry friend, visit the Purina Social Hub. Comment On: What are some ways that you help to keep your senior cat healthy?